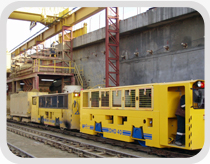 GIA Locomotives
GIA manufactures diesel locomotives in the range 2-45. They offer high speed and traction force, and are easy to customise, operate and service. Different engine alternatives ensure that each locomotive is exactly matched to the job, and will yield the highest productivity.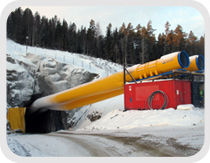 SwedVent Ventilation Systems
GIA SwedVent undertakes the design and calculations for total ventilation systems, supplying heavy-duty high pressure axial flow fans for airflows from 2.5 to 200 cu m/sec and in diameters of 630 to 2,240 mm. These are characterised by high efficiency, low energy consumption and low noise generation, and are delivered with all necessary accessories such as silencers, starters and variable airflow devices. SwedVent flexible ducting is manufactured from PVC-coated polyester fabric in diameters from 300-3,000 mm and lengths of 10-100 m, together with any bends and branch pipes required.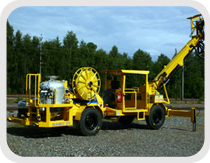 Utility/Service Trucks, GIAMEC Charging and Scaling equipment
Utility/Service trucks are also supplied, using a choice of rigid or articulated four-wheel drive chassis. These can be equipped with boom and basket or scissors lift platforms for anfo or emulsion charging, scaling, different kinds of installation and service works. The chassis also provides a superb base for a small dump truck or personnel carrier. GIAMEC charging and scaling equipment is manufactured by GIA. The GIAMEC is equipped with the latest compressed air charger, and a mechanical hose pusher. GIA also supplies ANFO mixing equipment. GIAMEC scalers are manufactured in both electric hydraulic and diesel hydraulic versions.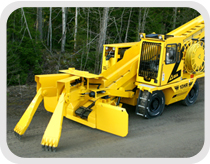 Haggloader and Shuttlecars
GIA manufactures both rail borne and wheel borne digging arm loaders. The equipment is suitable for tunnels with cross sections from as little as 8 sq m. The Haggloader works continuously with loading capacity up to 540 cu m per hour. The rail borne shuttlecars are designed for hard rock haulage in tunnels and drifts and allows for the complete round to be removed by one train set. The shuttlecars have capacities 9, 11.5 or 14 cu m.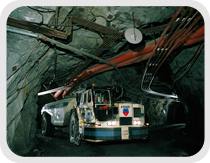 Kiruna Electric Trucks
Kiruna Electric has all the characteristics that has made the traditional diesel-powered Kiruna Truck so successful in the global mining industry. It is a low profile, articulated, compact heavy-duty mining vehicle. The tare weight is substantially less than the payload.
The Kiruna Electric truck is manufactured in two versions, 50 mt and 35 mt payload. Units have been delivered to mines in Australia, Canada, China, Kazakhstan, Spain and Sweden.
The key operating advantages of the Kiruna Electric are:
High speed on steep inclines - up to 20 %
Improved working environment - less noise, no exhaust fumes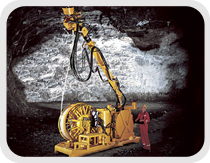 MEGCIS Cable-bolter
GIA's equipment for rock reinforcement is known under the name Mechanised Grout and Cable Insertion System (MEGCIS). The MEGCIS unit, also known as a cable-bolter, can be mounted on your choice of carrier, GIA utility truck or other. This equipment inserts a steel cable and grout into a pre-drilled hole to stabilise tunnel roofs or hanging walls, up to a borehole depth of 40m.