Reliable sealing systems
Datwyler Sealing Technologies is a leading provider of innovative, custom-designed solutions for sealing in high quality applications.
Project-specific solutions
Composite Blackswell



A hydrophilic round cord can be used at extreme temperatures (-50 to + 150°C)
Anchored Gaskets



Anchored gaskets are the next generation of sealing gaskets that are directly inserted into the segment mould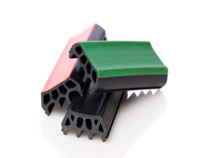 A wide range of reliable gaskets to meet demanding requirements, in widths from 20mm to 50mm.

With an integral sliding layer to reduce friction at keystone and counter-keystone; a complement to the range of Mono EPDM seals.

With an integral hydrophilic layer. This co-extruded gasket combines an efficient compression gasket with hydro-swelling capacity.
Datwyler rubber gaskets keep tunnels watertight worldwide
Datwyler Sealing Technologies is a world leader in the supply of engineered rubber profiles used in the sealing of tunnels. The company offers many gasket profiles and material options, all designed and offered on a project specific basis, to meet any hydrostatic and/or environmental conditions that may be encountered.
Datwyler manufactures various types of gaskets to meet a wide range of tunnel applications where special manufacturing is used to co-extrude EPDM with hydrophilic to make a single gasket profile that has double sealing capabilities. The company manufactures profiles that range from 20 mm to 50 mm in width.
The people of the Tunnel Department of Datwyler and its worldwide network of knowledgeable representatives will be most willing to review
and discuss your specific project requirements.
The reference list of Datwyler includes more than
457 tunnel projects in:
Eastern Europe
Sofia metro, Bucharest metro, Warsaw metro
US and Canada
Dorchester sewage tunnel, Pittsburg river
tunnel, Toronto metro and sewage tunnels.
Australia, Asia and India
Brisbane road tunnel. Metro tunnels in Hong Kong, Singapore, Delhi, Bangalore, Kolkata.
Western Europe
Frejus tunnel (F), Amsterdam metro (NL), Biel road tunnel (CH).
Russia
UAE
Dubai metro red and green lines. Deep Sewer tunnel.


To review all 457 references please click here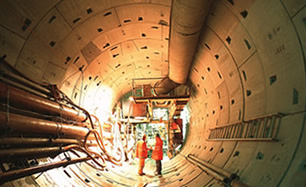 We are looking forward to providing you the right gasket solution.
Therefore please contact:
Dätwyler Sealing Technologies Deutschland GmbH
Eisenacher Landstr. 70
D-99880 Waltershausen


Product Manager
T +49 40 788933310 Andreas Diener
T + 49 3622 633 728 Thomas Gruber