ADFIL Construction Fibres - Leading Through Innovation
Spanning four decades, ADFIL Construction Fibres has been manufacturing and marketing an extensive range of innovative construction fibres. The fibres are designed for, and used in, many projects within the tunnelling and mining sectors.
ADFIL's long and respected history in supplying micro and macro polypropylene fibres to the tunnelling and mining industries is due to the blend of unique product technology, experienced technical personnel, continuous Research & Development programmes, and independent accreditation and Company guarantees.
The high performance fibres Ignis® and Durus® improve environmental and health and safety issues often associated with steel reinforcement and some other safety barrier systems. Both fibre types reduce manual handling issues, speed up construction time and offer sustainable solutions.
Macro Synthetic Fibres - Durus® S300
These fibres are specifically manufactured for use in sprayed concrete applications for tunnel and mining construction and offer an alternative cost-effective solution to traditional steel fibre or steel mesh reinforcement.
The macro synthetic fibres have been subjected to a surface treatment program that maximizes the bond within the concrete matrix and, because the fibres are manufactured from a polyolefin material, they are highly resistant to aggressive conditions and will never corrode or rust like steel mesh reinforcement.
Many underground projects now need to be constructed safely and over a relatively short period of time. For such projects, Durus S300 offers flexible solutions without compromising the increasing demands for high quality and durable concrete.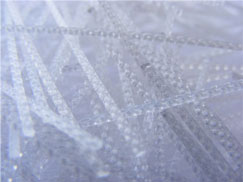 Fire Protection Fibres - Ignis®
ADFIL's technically proven passive fire system has been used for nearly 20 years. The first project, in early 1990s, was completed in Scandinavia and since then Ignis fibres have been specified and used in hundreds of kilometres of tunnels around the world.
Rigorous testing programs at internationally recognised test centres conclude that ADFIL fibres give high quality solutions for the tunnelling sector. Ignis fibres have been used in sprayed concrete, precast concrete elements, and poured in-situ directly or via pump behind installed formwork.
Due to the greater fibre count per kilogramme, Ignis fibres have been proven to reduce explosive spalling compared to rivals, even at lower dosage rates.