SINGLE SUPPLIER ELECTRICAL SOLUTION
The Rutherford Group of Companies are a leading supplier of electrical equipment and services for the international tunnelling, construction and mining industries. From a small business, established in 1981 in the Hunter Valley, Australia, the Group expanded its operations throughout Australia and more recently set up base in Asia and Europe. Their combined in-house expertise and resources to include engineering, manufacturing, research & development and project management provide you with an innovative electrical solution. Excellent access to the transport network also enables them to transport equipment worldwide and respond to your needs very quickly. Its current activities are involved in many of the most prestigious tunnelling projects around the world.
ELECTRICAL PRODUCTS & SERVICES
Rutherford designs, manufactures, sells, hires and repairs high and low voltage equipment and accessories. From building custom engineered substations to providing oil tests for transformers. Rutherford offers electrical packages on a hire, buy-back or purchase basis that allow you to gain the maximum benefit of high quality, reliable equipment at a cost effective price. Rutherford offers clients a wide range of products and services to meet your specific needs. We specialise in the following:

PRODUCTS
Turn-key electrical equipment packages
Transportable IP66 stainless steel substations & switchgear
Motor starters, pumps & auxiliary fans
PLC & SCADA data management systems
High & low voltage cables and accessories
Transportable substations
HV switchrooms
LV switchboards & motor control centres
Ventilation fans

SERVICES
Turn-key project management
Transformer overhaul & rewind
Oil testing & filtration
Overhaul of switchgear and substations
Fully equipped transformer oil testing laboratory
Electrical engineering services
Electrical installation works
PPE, test & safety equipment
Cable repairs for high and low voltage cables
HIRE FLEET
Generators
Transformers
Substations
Short term / long term hire of equipment & cables
Installation, testing & commissioning of hire fleet and products
Switchrooms & switchgear
DCB's & motor starters
Cables & accessories
Ventilation fans
ENGINEERING DEPARTMENT
Rutherford engineers have an in depth understanding of electrical engineering for heavy industry and have the capabilities to provide the best possible fit for purpose design for your equipment. Experience ranges from power system design through to PLC programming. We have the software and capability to model power systems and provide load flow, fault level and protection studies.
MANUFACTURING & OVERHAUL FACILITY
We have over 50 skilled and experienced tradespeople in the electrical, heavy fabrication, sheet metal and spray painting trades who specialise in design and construct work. We have 3600 square metres of factory floor which is equipped with two overhead cranes providing 25 tonnes of lifting capacity. This enables us to construct large capacity transportable electrical substations in our own facility.
TESTING & COMMISSIONING CAPABILITY
Before leaving the factory, all new and overhauled equipment is thoroughly tested and inspected by Rutherford's Electricians and Engineers. Facilities are available to power up equipment with 3 phase power up to 24kV. A 3 phase voltage/current variac is available for load testing transformer windings. All protection relays are current injected to ensure correct operation and calibration before leaving the workshop. The test bay is equipped with high voltage test equipment which can carry out a Hi-pot test of up to 100kV AC.
SITE INSTALLATION
Rutherford has a dedicated site installation team. The work this team carries out varies from high voltage switchyard construction through to electrical site establishment. The site installation team gives Rutherford the capability to do complete turn-key projects which include design utilising the engineering team, manufacture utilising the workshop and then installation on site.
SITE SERVICE
The Rutherford site service team has experienced personnel specialising in transformer and high voltage service. We have a mobile filtration unit and our service vehicles have been fitted out with all the necessary test equipment to enable safe isolation of high voltage apparatus. Our work varies from regular scheduled maintenance to emergency call outs – all to get your operation running again as quickly as possible.
TRANSFORMER OIL TESTING LABORATORY
Rutherford has its own laboratory for testing insulating fluids to assist in condition monitoring of electrical equipment. The laboratory uses industry standard methods and also implements modern instrumentation, all operated by highly qualified personnel with over 20 years of experience in the testing and interpretation and insulating fluids. The laboratory has its own quality system which is part of its NATA accreditation – accreditation number 14987. Our laboratory is committed to providing quality results and advice to our customers with minimum possible turnaround time.


BAM Ferrovial Kier JV (United Kingdom)
London Crossrail (C300) – Supply of Containerised Transformer Substations, Containerised 11 kV Switchrooms, 11 kV Compact Tunnel Substations
Dragados Sisk JV (United Kingdom)
London Crossrail (C305) – Supply of Containerised Transformer Substations, Containerised 11 kV Switchrooms, Compact Tunnel Substations
AGP Metro – Astaldi-Gulermak J V ( Poland)
Varsavia Metro line – Supply of Containerised Substations, Low Voltage Distribution Boards
Arge Kat 2 – Strabag AG Jaeger Bau GmbH (Austria)
Koralmtunnel KAT2 – Supply Containerised 30 MVA Switchrooms, Containerised Transformer Substations, Compact Tunnel Substations with HV Cable Reel
CONSORCIO IMPREGILO-OHL (Colombia)
El Quimbo Hydro Project – Supply of Containerised Transformer Substations
ADANTI S.p.A (Italy)
Quadrilatero delle Marche Colfiorito - Supply of Containerised Transformer Substations, Compact Substations with Cable Reel, Compact Low Voltage Distribution Boards with Cable Reel.
Angostura Constructora (Chile)
Project Angostura - Supply of Containerised Substations
Impregilo SpA (Abu Dhabi)
Strategic Tunnel Enhancement Program (STEP 2) – Supply of Containerised Substations and Compact Tunnel Substations
Murphy Group (United Kingdom)
Preston Floodwater Prevention Scheme – Supply of Containerised Substations
Grupo Unidos Por El Canal (Republic of Panama)
Third Set of Locks Project – Supply of Containerised Transformer Substations
CMC (Laos)
Theun Hinboun Expansion Project – Supply of 6.25MVA Generator Power Station and Distribution Substation
McConnell Dowell (Australia)
Bogong Hydro Project - Supply Turn Key Electrical Equipment and Cable Package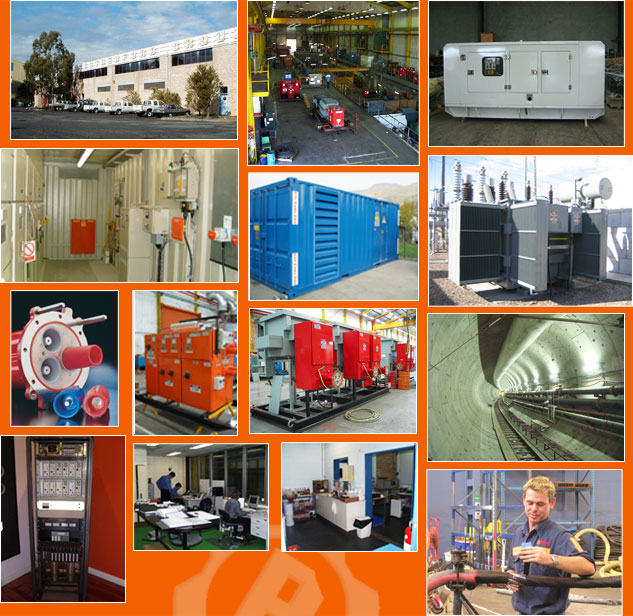 AUSTRALIA

RUTHERFORD HIRE AUSTRALIA
David Reid - General Manager – AUSTRALIA
39 Laverick Avenue, Tomago NSW 2322
Phone: + 61 2 4961 9679
Fax: + 61 2 4964 8611
Mobile: + 61 402 054 506
david.reid@rutherfordgroup.com.au
EUROPE

RUTHERFORD GLOBAL POWER (EUROPE) LTD
Steve Rush - General Manager – UNITED KINGDOM
Westwood Park, London Road, Little Horkesley, Colchester CO6 4BS
Phone: + 44 1206 274 114
Fax: + 44 1206 273 400
Mobile: + 44 7717 495 463
steve.rush@rutherfordpower.co.uk

RUTHERFORD POWER EUROPE SRL
Stefano Stirati - General Manager – ITALY
22 Via G. Treccani degli Alfieri, 20141, Milan

Phone: + 39 02 89 501 730
Fax: + 39 02 89 502 255
Mobile: + 39 348 701 3415
stefano.stirati@rutherfordpe.com
ASIA

RUTHERFORD POWER (ASIA) PTE LTD
Graham Hartland - General Manager – SINGAPORE
5 Joo Koon Road, 628969, Joo Koon, Singapore
Phone: + 65 6752 2898
Fax: + 65 6752 8982
Mobile: + 65 8382 1507
E-mail: graham@rpasia.com.sg
RUTHERFORD GLOBAL POWER (HK) LTD
David Harmer – Branch Manager – HONG KONG
No 2 Tin Sum Tsuen, 2 Tin Ha Road, (Hung Shui Kiu), Yuen Long. NT
Phone: + 852 2448 7448
Fax: + 852 2447 7466
Mobile: + 852 6027 6516
E-mail: david.harmer@rpasia.com.sg
Or via our website on http://www.rutherfordgroup.com.au
© copyright tunnelbuilder ltd